Solo Exhibition
Curated by Margo Grant and Irina Matinian
---
Sophia Popovic's most recent suite of paintings, "Screw You, Screw Me," is derived from the artist's involvement with iconic images, and the gradual dissolution of their meaning. Sophia paints hands, feet, shoes, and even rifles – All images that represent specific importance to the artist. From the outset, these images are shadows, unadorned, stripped of nuance and specific characteristics; an undefined outline whose portrayal is closer to the whispered word than a realistically painted form.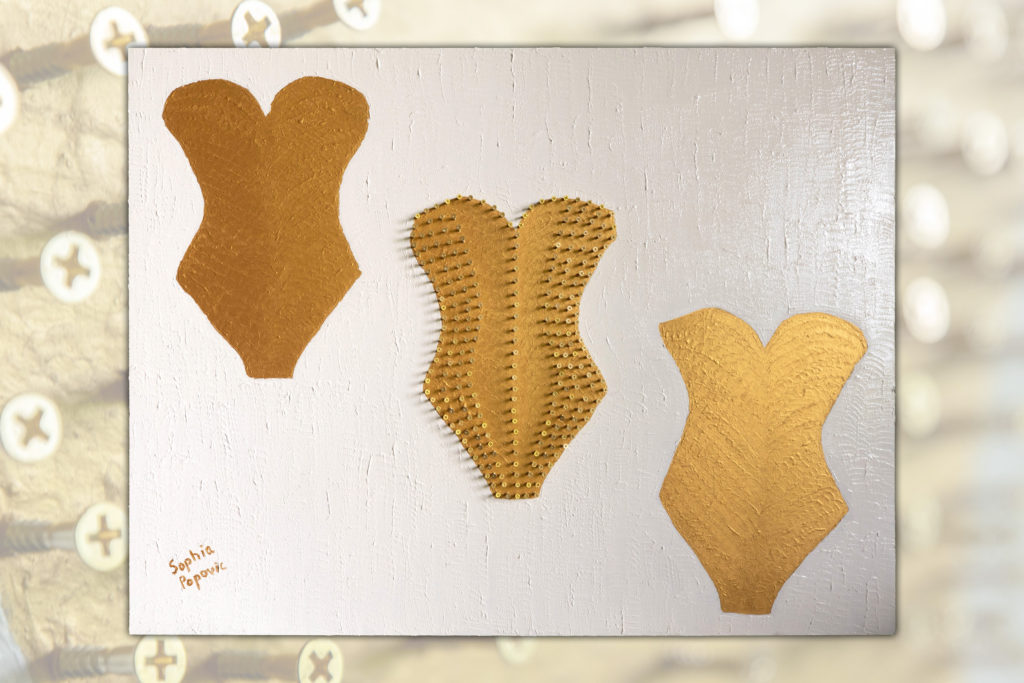 The artist is emphatic in her work, painting varied numbers of these images, portraying in triplicate, a rotation of sorts, and in multitudes, a chaotic riot. She affixes these pictorial forms persistently and aggressively with brass screws as if to suspend them in time, afflicted by current events, while their alternates, the remnants of a more joyous time, are left to fade and obliterate. These brass pierced forms are the artist's emotional legacy to current events, where fear, desperation, and protest struggle to retain the quickly disappearing qualities of a once fuller life.
The tenacity with which our lives have been memorialized in this series had become for Sophia, weaponized. The hand that once signified a handshake, caressed a face, waved adieu, is now, painfully crucified. A corset that once enhanced a shapely woman's torso is screwed in protest. The foot that danced, leaped, and arched on its toes is now immobilized. The rifle, which we once viewed as a rightful form of protection, has become both jeopardized, and symbolic of violence.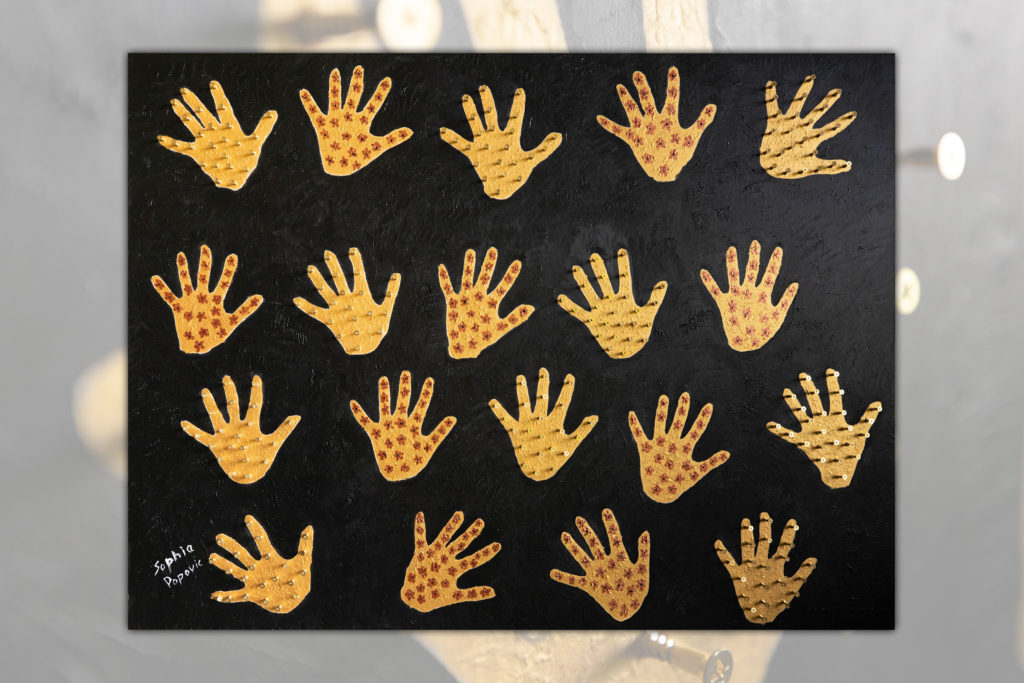 All memories associated with these forms are envisioned in black, gold, and white, decorated patterns, and beautifully express the new, plaintive narrative of remembrance.
The underlying theme of "Screw Me, Screw You,' although profound in its origins, is also a wry and humorous commentary on our identity. The slavish passion for uncomfortable but lavishly decorated undergarments and crippling footwear is permanently affixed in our history. Hands, gesturing, grasping, pointing, hexing, are the indelible and eloquent language of the inarticulate. The culture of the American rifle, which brandished this instrument as a form of protection, still adheres to its influence, despite its powerlessness against invisible global villains. Sophia presents us with a parody of modernity: Screwed unless we forget who we are.
Sophia Popovic is a New York artist, who keeps her studio on the North Shore of Long Island, where she surrounds herself with beauty, nature, and current global events. Her powerful imagery includes drawings, paintings, mixed media, and both insightful and delightful conversation. Sophia herself is as much a work of art as her paintings.
---
With questions on prices and availability of artworks, please contact Margo Grant
+1 917 449-2842
[email protected]