Texas Contemporary, 2019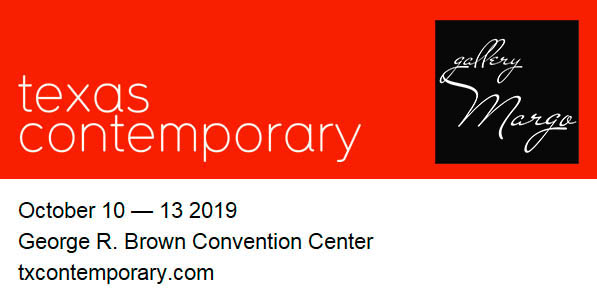 Margo Gallery is pleased to announce its participation in the Texas Contemporary 2019 – Houston's leading contemporary and modern art fair.

Texas Contemporary, Houston's leading contemporary and modern art fair, brings top galleries to the area's discerning collector base. Now going into its eighth edition, Texas Contemporary 2019 will feature 75 exhibitors and an innovative program of special projects and public installations.

2019 will see the continuation and expansion of Texas Contemporary's notable partnerships with the region's finest institutions and museums. With the support of the Houston community and the city's galleries and institutions, Texas Contemporary will return to the newly refurbished George R. Brown Convention Center for a compelling and constructive eighth edition.

Texas Contemporary Preview will open on Thursday, October 10, from 6:00-10:00pm. The fair will open to the public on Friday, October 11, and run through Sunday, October 13.

The Complimentary VIP Pass (follow the link below) provides entry for you and a guest beginning with the VIP Preview on Thursday, and includes admission to the fair on Friday and all weekend long. To learn more, visit txcontemporary.com.
| | | |
| --- | --- | --- |
| | Margo Gallery will be located at Booth E07 | |
| | | | | | |
| --- | --- | --- | --- | --- | --- |
| | Michael Ezra expands his work in series of infinite color architectural abstracts – Eikos. This series are infused with innovative use of color, subtle messaging and harmonious composition of abstracted architectural elements. This is New York as it was never seen before. Ezra's clean and precise manner of execution renders a unique sense of clarity and completeness to each of the master's pieces and became a special hallmark of the artist. | | | Annette has over two decades of experience in portrait, advertising and Fine Art photography. "The Fountainhead" by Ayn Rand got her started in architectural photography. Old, new, elaborate or plain, tall or small; these constructions reflect people and their personalities. It is their artwork, their legacy. They express their personality and life in those buildings. Annette is using the architect's creativity combined with her own to express what is important to her with enough room for the viewer to find their own meaning and vision. | |
| | | | | | |
| --- | --- | --- | --- | --- | --- |
| | Carole Jury is both a photographer and an abstract painter and she combines the two mediums of expression in her process, starting from photography and then transposing it to painting to create her series with poetic names such as Dark sea, La Vie en Rose or Glimmer of Hope. Her signature resides in her broad textured strokes, her ability to capture shadows and lights and her eye for color with canvases from vibrant reds to calming blues, subtle nuances of whites to powerful blacks. Working mainly in oils but also in acrylics, Carole Jury likes to play with materials to express herself: her paintings can be either made on canvas, wood or aluminum, incorporating leather or fabrics. | | | The Moscow-based artist Yuri Ulyashev is impressively versatile in the subject matter and technique of his paintings, which vary from cheerful still lifes to sardonic depictions of animals with human accessories. Uliashev's mastery of oil painting is evident in his use of different strokes, textures and impasto, not to mention his bold yet subtle use of color. His paintings delightfully combine realistic and graphic elements, perhaps aided by his successful career in advertising. | |
Eleonora Hobbs/EllaNiza is an artist with exceptional feeling for rich saturated palette. Her artwork represents the world as she perceives it: vivid, magnificent and breathtaking. Varieties of details on each painting fulfill the entire composition. Her abstract works are based on perception of color, and bring a sensation of life to the paintings.

Since 1998 Jordan has exhibited his paintings in various venues in Amsterdam and Utrecht, The Netherlands, where he studied painting and fashion design at the Hogeschool voor de Kunst, as well as in New Hampshire, where his family now lives; and in Los Angeles, where he studied fashion design at FIDM, the Fashion Institute of Design and Merchandising.

Menswear has allowed Jordan to merge his drawing and painting ideas with fashion. The location of a pocket, the seam of a shirt, the stitching used are all informed by these references.
Zina Zinchik is a Fine Art Photographer who lives and works from West New York, NJ. Following her passion, a self-taught photographer, she picked up a camera in her late 20-s. Further studying in workshops with globally accomplished photographers and extensive experimenting with photography techniques led to development of her vision and style.

Her recent works, inspired by global warming weather events, consist of experiments with ice and frozen botanical and collected into "Frozen Spring" series. The artistic influence behind this imagery stems from deep appreciation for the simple, the untainted and the unadulterated beauty found in nature and the logistic restrictions influenced by weather.

Zina's work has been exhibited nationally and internationally and printed in numerous magazines.

Alex AG is a photo artist, and theoretician of photography, as well as a host of TV program about modern photography – Single Shot. His focus is experimental photography with special attention to the role of reality in the media. The premise of his art is redefining photographic image in the same manner painting was redefined by impressionism and expressionism. His works in contemporary series are digitally modified panoramas, combined with other visual elements in order to create complex narrative, depicting fantasy rather than reality. The works featured in this collection are from two series – Yoga Poses and Elements. Both are exploring female beauty reflected in the visions of the world.
Kuzma Vostrikov & Ajuan Song

Kuzma Vostrikov started his art career as an editor and writer and soon worked as a producer and director in art cinematography. Founding his independent film company, Kuzmacinema has produced four art movies and has participated more than 50 film festivals around the world.

Since 2011, Vostrikov has been working in experimental photography, his main subjects including the social connections between social networks and mass media psychology.

Ajuan Song is a photographer currently living and working from New York. Song graduated from the International Center of Photography and Pratt Institute, and is interested in abstract, experimental and multimedia art. Her work mainly utilizes the processes of chemigrams and collages to create her dynamic photographic imagery.

Lidia is specializing in peculiar still lifes with extraordinary color and harmonious compositions. The imaginative titles give her work a further dimension. Lidia is utilizing natural, radiant light of everything that surrounds her and hopes that all her paintings show her love for nature and people. Former immigrant from the Soviet Union (Kiev, Ukraine), Lidia has a Masters degree of a designer and mechanical engineer. Lidia has followed the path of an artist for the past 25 years and has successfully participated and won prizes in shows in Art Student League of New York, Brooklyn Art Festival, Park Slope Historical Show and Conference House Artistic Show.
Naum Medovoy's career spans four decades. A self-taught artist, he was mostly a documentary filmmaker until he began printing stills from his film, applying oil sticks and black and white ink to their surfaces. The resulting works serve as platform for expressive and [perceptual experimentation, which are often self0referential in nature; Medovoy's photo-documentary collage paintings are rooted in his childhood memories and previous work.

In his studio, Medovoy tirelessly works on each painting, moving between various combinations of media until he's satisfied with the end result. In the process, he offers an entirely new perceptual exprerience, such so that he's established himself as a unique, vangard talent in art world, inventing new ways to aesthetically engage viewers, mediating between oil sticks, ink, film, photography, and memory.
| | | |
| --- | --- | --- |
| | Margo Gallery will be located at Booth E07 | |
| | | |
| --- | --- | --- |
| | Questions? Contact us today 1-646-662-3197 | |