Market Art+Design, 2019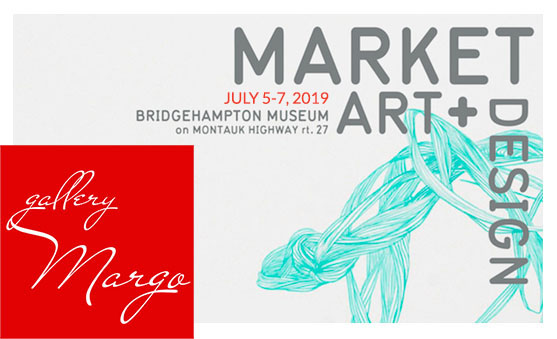 Margo Gallery is pleased to announce its participation in the Market Art + Design 2019 – the East End's premier art fair and the summer season's top destination for fine art and design.

Market Art + Design returns to the center of Bridgehampton this July 5th through 7th for its ninth edition, with over seventy galleries featuring compelling presentations of modern and contemporary art enhanced by a striking design component.

Market Art + Design's Preview will open on Friday, July 5, from 1:00-6:00pm with a VIP Party continuing the celebration from 6:00-10:00pm Friday evening. The fair will open to the public on Saturday, July 6, and run through Sunday, July 7.

The Complimentary VIP Pass (follow the link below) provides entry for you and a guest beginning with the VIP Preview on Friday, and includes admission to the fair all weekend long. To learn more, visit artmarkethamptons.com.

| | | | | | |
| --- | --- | --- | --- | --- | --- |
| | Olga Kondratska lives and works in Budapest. A versatile 21st century Renaissance woman, a world-known architect and designer of numerous projects in Europe, Asia, North and South America. Olga's paintings can be found in private collections and National Museums – Museum of the History of the City of Kiev, Taras Shevchenko National Museum, National Museum "Kiev Art Gallery". On her latest project "River of Life" Olga Kondratska strives to draw attention to the problems associated with raising ocean levels to preserve this beautiful blue planet for our descendants. | | | Kate began experimenting with fluid painting after her pug, Louie, mistakenly knocked over a cup of paint one day and it spilt onto the floor. The colors mixed together and inspired Kate's idea of mixing fluid pour paints with mixed media materials. Currently, each piece Kate creates is inspired by earth's minerals, elements, geodes and energies. Each mixed media piece is made specifically to target light refraction, while banishing negative energy. Each piece promotes positive energy through the use of crystals, glass, stones and other layers of materials. Many of her pieces represent the inside of a geode or mineral. Kate uses a mix of techniques but begins each piece with a style of pour painting, gradually adding layers of materials and resin to act as layers. | |
| | | | | | |
| --- | --- | --- | --- | --- | --- |
| | Michael Ezra's distinctive work in sculptural nudes is focused on creation of unique laconic images of sculptural forms using the medium of fine art photography. His work is dedicated to discovery of novel concepts of sculptural forms of human body and study of dualism via harmonious conjunction of contrasting elements. Ezra's clean and precise manner of execution renders a unique sense of clarity and completeness to each of the master's pieces and became a special hallmark of the artist. | | | Annette has over two decades of experience in portrait, advertising and Fine Art photography. "The Fountainhead" by Ayn Rand got her started in architectural photography. Old, new, elaborate or plain, tall or small; these constructions reflect people and their personalities. It is their artwork, their legacy. They express their personality and life in those buildings. Annette is using the architect's creativity combined with her own to express what is important to her with enough room for the viewer to find their own meaning and vision. | |
| | | | | | |
| --- | --- | --- | --- | --- | --- |
| | Savtchenko's figures are archaic in form and spirit, both by reason of their abstract, schematic, emblematic character and execution. They are often composed of spontaneous lines that seem incised in the surface, which tends to be dense and solid, however agitated the gestures that compose it may be. All of Ekatherina Savtchenko's interests converge in her powerful Kama Sutra series, the quintessence of her complicated dynamics. Savtchenko's series is an account of the ritual lovemaking necessary to generate the cosmos – out of ecstasy, as it were – as well as a "demonstration" of the gods all human beings are when they make love. | | | Aleksandr Vishnevetskiy art is characterized by a predominant tendency towards the abstraction of form and space and by the use of a prevalent energetic textural brush stroke. The heavy impasto of acrylic paint that is applied energetically and freely to the canvas, the brushwork is quick and confident manner. The painterly method of the acrylic, the dynamic movement of the palette knife and patterning and directional changes of the brushwork, and the resulting variegated and fascinating texture are keystone elements of the paintings by this artist. | |
| | | | | | |
| --- | --- | --- | --- | --- | --- |
| | Iness is a Russian artist based in Brooklyn, NY. Her passion for art and painting began at home as a child when her grandfather, himself an artist, painter and decorator, first handed her his brush. Iness shows us through her work her vision of modern society. Her artistic system seeks to enlighten while paying special attention to the often-neglected emotions of the human being. Her paintings are symbolic representations of the human being achieved through the juxtaposition of humor and emotions in a provocative and dramatic manner. Using her unique mixed media style, Iness brings to life an unlimited range of iconic themes. Her work highlights contradictions within the modern world and its effects on people and their environment. Iness' art work has been exhibited at Chelsea galleries as well as underground art shows in the United States and Russia. | | | Shiloh is an artist driven by instinct and impulse. Hesitation dissipates at the sight of a canvas. Voluntarily remaining anonymous, Shiloh is guided by insightful mentors, street culture, and hysteria. | |
| | | |
| --- | --- | --- |
| | Margo Gallery will be located at Booth 519 | |
| | | |
| --- | --- | --- |
| | Questions? Contact us today 1-646-662-3197 | |